With unemployment at around 7.6% graduation can be a daunting time for many college students. Did they choose the right career path? Did they get the right internships? Are there jobs available in their chosen field?
College Works Painting has done the research and compiled a list of the 3 degrees that rank highest in terms of employment. Not only do these degrees offer jobs for the present, but they show potential for maintaining their usefulness into the next decade.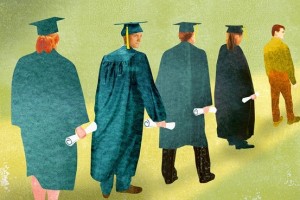 If your still deciding on a degree consider one of these
No. 1: Health Care Degree
The health care industry is one of the fastest growing industries. According to All Health Care, it is expected by 2018 there will be 3.2 million new health care jobs– that is a growth rate of nearly 22%!
Average starting pay according to Yahoo education:
Nursing: $52,178
Health & Related Sciences: $35,869
No. 2: Business Degree
A degree in business administration is versatile and can be applied to many different fields. Business programs include classes in finance, marketing, e-commerce, management, you name it! A business degree has the potential to prepare you to do just about everything in the business world.
Average starting pay according to Yahoo education:
Public Relations Specialist: $59,150
Marketing Specialist: $66,850
Operations Research Analyst: $76,980
No. 3: Technology Degrees
Because technology is ever growing and changing the need for those with knowledge in the field is inexhaustible. Areas fueled by technology, like Silicon Valley, Seattle, and innovation centers in Texas or North Carolina are always looking to hire techies. They are needed to help develop new technology and products as well as service computers and keep networks up and running.
Average starting pay according to Yahoo education:
Network Administration: $66,310
Computer Specialist: $97,970
Information Systems Manager: $112,210
Melanie Lovejoy
College Works Painting
mlovejoy@nsgmail.com