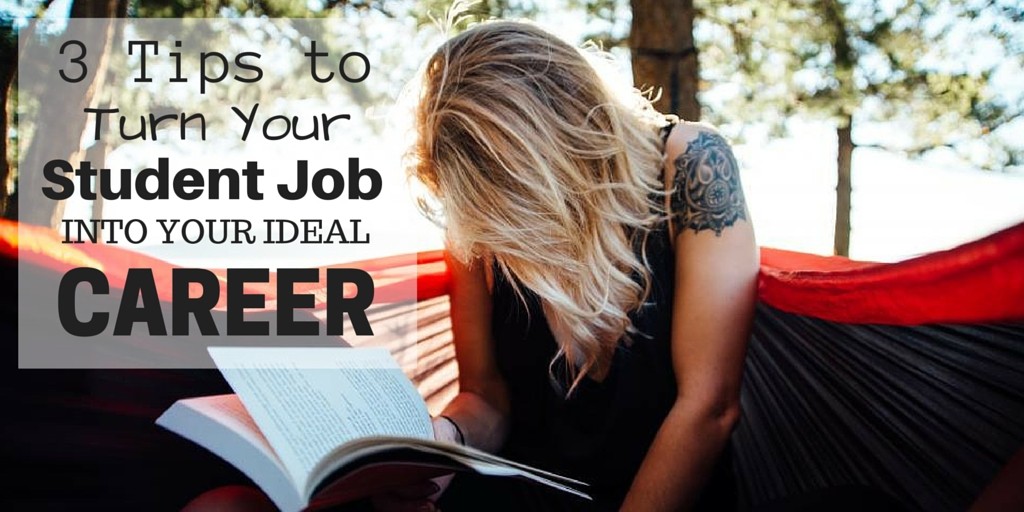 Employers spend an average of six seconds scanning your resume, spending 80% of that time reviewing your current and previous job titles alongside a few other key points such as education level and position start and end dates (according to this study conducted by The Ladders).
Then they judge you.
Since job seekers can apply to a job with just the click of a button, job searching has become more competitive than ever. Especially for college students and recent college grads whose work experience primarily consists of student jobs, like college internships and part-time on-campus jobs.
The solution: elevate your job experience. Make your resume stand out by taking your student job to the next level.
How, you ask? Here are three easy tips to get you started.
1. Create an online portfolio
Right, that's what LinkedIn's for. But this takes it a step further. While LinkedIn showcases your accomplishments, professional connections, and job history, an online portfolio will showcase your skills.
Want to get more out of the school project you spent hours on or more out of your job at the student book store on-campus? Create an online portfolio.
Online portfolios have galleries which allow you to organize your work with categories. Here you can showcase your broad range of skills from organization, technical ability, and image selection, to writing style and personality.
Don't just create a "school" gallery and a "work" gallery. Create a History and Literature gallery and upload your papers and projects from those classes. Create an On-Campus Bookstore Clerk gallery and upload blog posts you've written, like "What I Learned about Myself When the Dean of Students Bought a Self-help Book at the Book Store."
A good portfolio is error free. No typos, no grammar or spelling errors.  A good portfolio has high resolution images and a carefully selected font, one that's legible and easy on the eyes, like Comic Sans (an oldie but a goodie).
That's how an online portfolio will help you elevate your student job.
2. Treat your student job like a career
Career experts have been shouting this from the mountain tops for a while now: a resume should list your job accomplishments. It should not read like a job description.
That being said, you won't have any accomplishments to include on your resume if you don't accomplish anything.
The easiest way to treat your job like a career is to ask your boss to mentor you. Tell your boss that you're eager to learn and grow and that you're willing to put in the extra effort.  Then say "could you mentor me?"
Under the mentorship of your supervisor, you can elevate your basic job functions. Whether you place books back on the shelf at the university's library or process expense reports for the CEO at your accounting internship, you need to accomplish something. Implement new strategies to increase book check-outs or reduce accounting errors. Track your accomplishments and record them on your resume.
Employers love when you quantify your accomplishments on your resume. Ask your supervisor what the current check-out rate is per day so that you can accurately track your success rate.
"Increased daily book check-out by 15% by returning books to the shelves within 20 minutes of return" will surely catch an employer's attention versus "stock maintenance."
3. Seek out promotion opportunities
Whether you're a barista at your on-campus Starbucks or a marketing intern at a large organization off-campus, you should readily seek out opportunities for advancement.
Once you know you're deserving of a promotion, you can seek out promotion opportunities in a few different ways. If you work for a larger company that posts job openings on their website, set up job alerts so that you get email notifications once a job is posted.  You can also search for the company on Glassdoor and press the Create Job Alert button to get notified every time your employer posts a job.  Or, go to Indeed and type the name of the company into the search engine. The results will show you all job openings for that company only.
When you know a position has become available, ask for it. Sounds easy, but this conversation will take courage. Muster up some confidence and ask your supervisor if she has a free moment to chat. Tell her that you love the company and would like to continue to grow. Tell her you understand a position has become available and you would love an opportunity to apply.
If your current student job doesn't have opportunities for advancement or your supervisor is unwilling to work with you, start looking for another job. There are a lot of entry level jobs that offer promotion opportunities.  Go get one of those instead.
What are you most concerned about when it comes to your student job? What are your thoughts on working while in college?