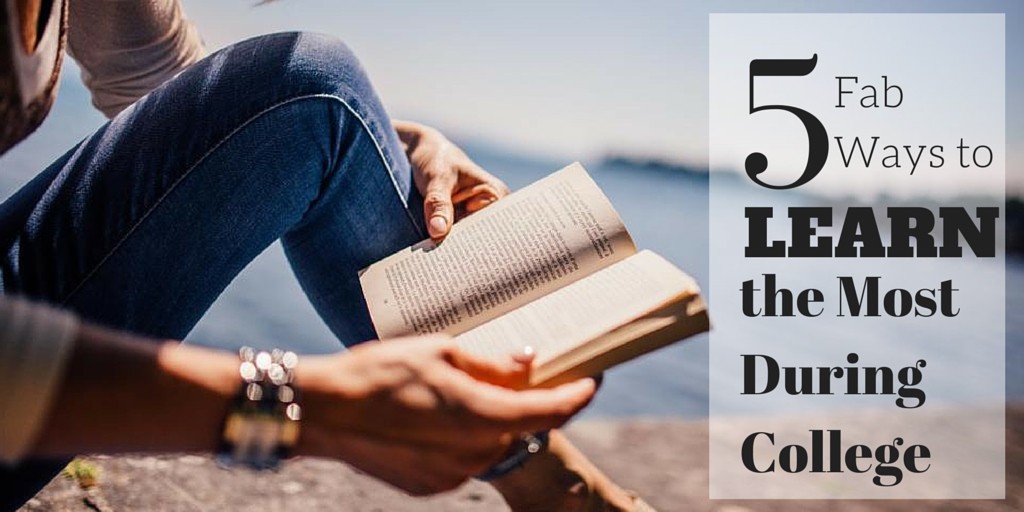 Being a senior in college, about to embark on my last semester, I can't help but recognize how modern communication has played a part of my college experience.
For millennials, the use of hashtags has become a popular phenomenon. We're more than ever attracted to words attached to meaning.
I, along with most, if not all, of my millennial friends share and communicate nearly everything on social.  "Share, share, over share. When does the sharing stop?"
As far as communication goes, social is our go-to.
But what do we get out of it?  Do we learn anything from social sharing?
L-E-A-R-N.  hashtagged or not, we students hear it all the time.
And when it comes down to it, learn is the only word we need to remember when it comes to obtaining as much resume building experience we can during college, in the classroom and during our internships.
Related Article: How to Make Your College Experience Resume-Worthy
So the question rings… How do you LEARN the most during college?
Learn from the classroom, learn from the real world—with an internship.
#Learn is the only word you need to remember.
The only 5 ways the word Learn sums up how to make the most out of an internship:
L
Internships are the first step to success. That's why doing research and finding an internship that molds the education you receive while allowing real life hands-on experience is key!
From all the internships I held, I only gained resume-worthy experience when I was extended the opportunity to perform hands-on experience.
Companies that give you an opportunity to build a competitive resume with real-world experience make an intern feel more like an employee rather than a volunteer.
Inevitably, this helps set aside a strong candidate from a weak candidate. Be hands-on during the learning process!
Related article: How to Avoid a Useless Internship
E
While being an intern may seem like an easy task, it may not always be the case.  A good internship should be challenging! You're at an awkward limbo stage where you are working in an environment that is allowing you to put your knowledge and interests to use, but you are not yet a hired employee. Not only are you adapting to new surroundings, but you are juggling a multitude of tasks all within a 24 hour span.
Managing your time effectively will enable you to get the most out of your internship. Wake-up earlier, use organizational tools like Asana, and do most of your social sharing off the clock to maximize your learning.
Capitalizing on your time and gaining valuable experience is crucial. Successful people around the world deal with the stress on a daily basis, and still manage to kill it daily.
Related Article: How Successful People Stay Calm
A
Knowledge is power! It's important to not only have an idea about the internship you are eying, but to actually have a solid understanding of all the components of the company.
Learning the most about a company you are interning for will not only help you stand out in the interview process, it will be the golden ticket to feed your brain as you take on every new task that comes your way. Added bonus: the knowledge you avidly adapt may be what it takes to help you land a full time position after all your hard work is complete.
Related article: Important Research to Do before You Start Your Internship
R
While internships that don't give you hands-on, real-world experience add little to no value to a resume, useful internships that offer resume-building experience help sharpen your knowledge, and boost your personal portfolio so you stand out on top.
The skills, experiences and effective networking practices learned are all invaluable pieces to obtain in the transition from college student to young professional. It's important to continually keep your resume up to date and shining with fresh content.
Tip: Add it as you learn it!
Related article: Top 10 Killer Ways to Improve Your Resume
N
With social media serving as such a key sharing component, use it as your outlet to show and tell others what you're learning.  Use social media to network within the company you're interning at.
Visit the company's social media channels. Use their hashtags to join the conversation. Engage with the company on social by commenting on posts and articles they've shared.  Follow the CEO, Marketing Manager, and your direct supervisor. Sharing is caring. Show your new boss YOU care!
Success can't flourish if you don't do the most to get the most out of every second of your internship experience.
#LEARN.
How are you making the most out of your internship? What results have you seen by trying these tips?