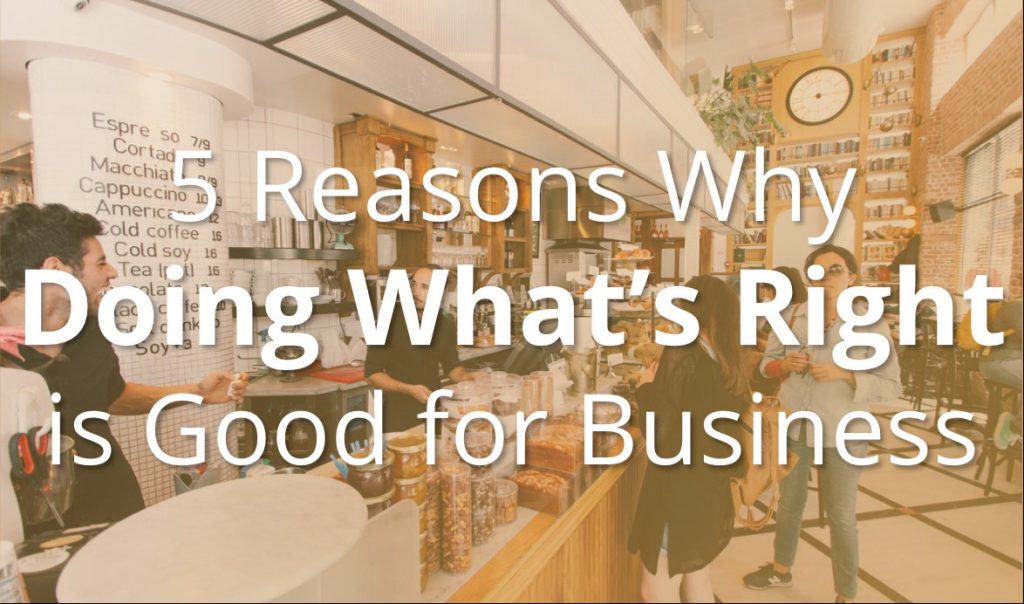 It's been almost 30 years since Gordon Gekko proclaimed, "Greed is good!" in the legendary movie Wall Street. Unfortunately too many people interpreted Gekko's message to mean that it's okay to do anything necessary to be successful.
As a recent college grad when the financial crisis began in 2008, I was working at a large investment bank and I had a front row seat to the destruction and devastation that untamed greed can cause.
A few years later, when founding a real estate software company in 2012, my co-founder and I made a decision to always do what's right for our colleagues, customers, and suppliers.
What do I mean by, "doing what's right?" It's as simple as:
Following through on commitments
Admitting and correcting mistakes
Telling the truth
In business, doing the right thing means delivering great customer service, correcting mistakes, helping your colleagues and customers, and being a good role model.
Now, just a few years later, we have more than 23,000 landlords who use our end-to-end landlord software to manage properties in 6,000 zip codes across the country.
In addition to customers across the country, we have built a diverse team of the most talented people I have ever worked with. Every week, we receive resumes from talented people who want to join us.
Based on our success with customers and our team, I am 100% convinced that doing what's right and earning a profit are not mutually exclusive.
At Rentalutions one of our core values is, "Do What's Right." We believe in doing what's right, because it's good for our business.
Below are the 5 reasons why doing what's right is good for business.
Reason #1: Your Reputation is Everything
Doing the right thing gives you a good reputation. Developing a strong reputation for yourself and for your company has always been important. The best way to boost your reputation is through word-of-mouth recommendations. In fact, a study shows that word-of-mouth is the most powerful influencer of consumers' feelings about a brand.
With the growth of social media and online review sites, it's never been easier for you to be rewarded for doing the right thing. When customers are pleased with the product or service you provide, they're quick to share the experience on Facebook, Twitter, Yelp, and other sites.
At Rentalutions, A+ Service is another one of our company's core values. We live this value every day, and our customers have rewarded us for this. Many landlords choose to share their positive experiences on social media, review sites, and on popular landlord forums.
On the other side, when customers have poor experiences, they move even faster to share these stories on social media. Some brands, like Comcast, have even evoked Twitter hashtags (#ComcastFail) that customers use to document the company's shortcomings.
By doing what's right, you will develop a positive reputation for yourself and for your company. This reputation will ultimately lead to positive word-of-mouth, which studies show converts people to customers.
Reason #2: Setting High Expectations
When doing what's right, you establish yourself as a leader who has high expectations for yourself and for those around you. These high standards become the norm for how you interact with colleagues, customers, and suppliers.
You'll eventually learn, as I have, that success depends on forging sound relationships of trust, honesty, and dependability.
Setting high expectations also pushes you and your business forward. By asking more of yourself and those around you, you end up with a more valuable end product. Setting high expectations instills a 'go the extra mile' mindset, which is good for your business.
Reason #3: Attracting New Customers is Easier
As a business, one of your top goals is attracting new customers. Several companies have established themselves and won over customers by selling their values and by doing what's right.
One of the most popular examples of this is shoe company TOMS. Immediately after opening the company's homepage, they display a message that says, "See how your purchase improves lives."
Customers want to do good, too. A large part of TOMS' success is that they are not only doing good, they are also letting their customers be a part of it. It's more than a company, it's a cause.
Consumers no longer focus solely on what you do, but how you do it, and why you do it.
If you show people that you do things the right way, you'll be rewarded.
Reason #4: Doing What's Right Attracts Media Attention
Truett Cathy, the founder of popular fast food restaurant chain Chick-fil-A, made a decision decades ago to remain closed on Sundays so that restaurant operators and employees could spend time with their families.
In the aftermath of the recent Orlando nightclub attack, Chick-fil-A employees decided to break with tradition and fire up the kitchens on a Sunday to provide meals to first responders and the thousands of volunteers who answered the call to donate blood.
This was a local decision, made by store employees in Orlando, but their generosity earned the company coverage in major national media publications. It's tough to estimate exactly how many people viewed these articles, but one thing is certain: if Chick-fil-A tried to reach as many viewers through paid advertising, it would have cost significantly more.
Local and national publications frequently cover feel-good stories like this.
By doing what's right, you'll have a shot at earning some free publicity.
Reason #5: Helps You Sleep Better at Night
Doing what's right and treating people fairly does more than just earn you good karma. You'll also find that doing what's right reduces stress.
By being honest, you don't have to worry about juggling different stories for different people. Paying invoices on-time means you don't have to dodge phone calls, letters, and visits from unhappy creditors.
By minimizing unnecessary stress, you'll be able to sleep better at night, and ultimately be healthier and more productive all day long.
At Rentalutions, we've been successful by doing what's right for our colleagues, customers, and suppliers. It's not that we're perfect – far from it – but everyone knows that when mistakes occur, we're fast to communicate and correct the problem.
We have earned the respect of our customers, and have developed a reputation as a company that people can trust. Finally, by doing what's right at all times, we're able to sleep better at night and don't worry about who we've harmed.
Doing what's right oftentimes results in more customers, happier employees, and better relationships with suppliers.
About the Author
Ryan Coon is the CEO of Rentalutions, the only end-to-end platform that DIY landlords use to manage single family homes, condo units, and small multi-family buildings. More than 20,000 landlords use Rentalutions to find and screen tenants, create and sign leases, and collect rent online.
Ryan is a College Works alumni, a former intern in Illinois in 2004. He attended the University of Illinois Urbana-Champaign.