Painting the interior of your home may seem like an easy task– slap the pain on the wall, let it dry, and you're ready to go. Unfortunately it's not quite that easy. There are quite a few things that must be considered when painting the interior of your home. College Works Painting has compiled some useful and simple tips to help make your interior house painting experience run more smoothly.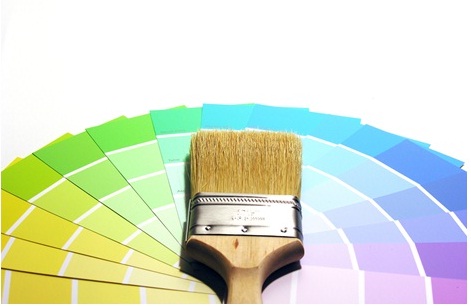 1) Primer First
Tempted to skip the primer? Stop right there! Primer is important for a couple of reasons. First, it creates an even surface for your paint to adhere to. Second, it brings out the paints true color. Using tinted primer is always an option as well. Tinted or colored primer enhances the colors, especially colors like red and orange.
2) Prep, prep, prep
Your paint will not stick to the wall properly if you have not taken the time to prep. Starting with a perfectly smooth and clean surface will help you end with a perfectly clean and smooth surface.
Steps to prep:
Clean the surface thoroughly
Scrape away loose paint
Repair any surface flaws
Use a dropcloth to protect floors/ground
Prime
3) Quality now means you save money later
High quality paint means it will look better, last longer, and be much easier to apply, saving you money in the long run. To choose a high quality paint here are a few things to consider.
Pigments: "Prime" pigments add color and keeps color retention. "Extender" pigments are basically filler and add to the bulk. Higher quality paints have more prime pigments than extender pigments
Binders: High quality binders help paint adhere to surfaces better, making it longer-lasting. On the contrary, the lack of quality binders causes paint to be more susceptible to peeling and cracking.
Liquids and additives:Low-cost paints have more liquids than actual quality ingredients. In comparison, higher-quality paints have built-in additives like mildewcides, which fight mildew growth, and preservatives, which prevent paint spoilage.
Along with quality paint, using quality brushes and rollers are important too. Stick to a roller with 1/2″ inch nap or less. A longer nap will result in a textured finish instead of a smooth one.
4) Take it one wall at a time
It might seem easiest to do the trim and corners first, and then take a roller to the wall, but if you want seamless painting do not go that route! Professionals recommend painting the edges of one wall first and then finishing with the same wall. This will blend the brush strokes along the edge with the roller strokes through the rest of the wall when it dries.
The same principle applies to stopping or taking breaks mid-wall. The paint will dry while you are away and when you resume the new paint will coat the drying paint instead of blending. This will make spots on your wall appear darker and layered. For the best results finish an entire wall before taking a break.
5) Mix paint for consistent color
If you are painting an area that requires more than one can of paint it is in your best interest to use a 5 gallon bucket to mix the colors. The "same" color of paint can vary from can to can and this will be painfully obvious when you open a new can halfway through a wall.
6) Use a bucket grid
Now that you have your paint already mixed together in a bucket, skip out on using a paint tray and use a bucket grid instead. Attach the metal bucket grid to the inside of your paint bucket. To use, dip the roller into the bucket, and roll off the excess on the metal grid, which then drips back into the rest of the paint. When you're done, you can drop the grid into the bucket and snap on the lid. It's so much cleaner and costs less than buying paint trays.
7) Wash rollers & brushes
Before you start painting, washing your rollers and brushes. This will get any excess lint and dust off before you begin painting. Having microfibers stuck in your freshly painted wall is never a good look.
Melanie Lovejoy
College Works Painting
mlovejoy@nsgmail.com