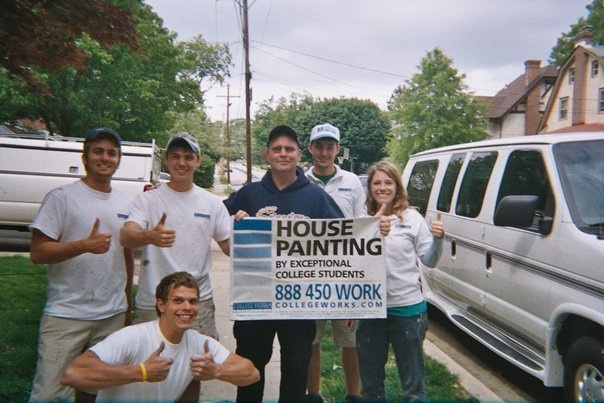 If you were to search the internet for how to make the most out of your internship, you'd get a ton of generic advice.  None of it would be all that helpful because, well, it's generic.
So I got with a College Works Painting vice president to talk about his intern year to really give you some solid advice.
If you want to make the most out of your College Works Painting internship to fully maximize your experience, here's the one thing you need to do: take advice from someone who's completed the internship successfully and moved on to achieve a pretty impressive career.
To help you gain the most from your CWP experience, College Works Painting California Pacific Coast Vice President, Rob Sprong, offers the following:
Learn everything so well that you can teach them to others
Rob was 18 years old his intern year at College Works Painting. By 19 he was promoted to a district manager. Then at 23, Rob became a College Works Painting vice president.
Throughout his College Works Painting career Rob said he had more responsibility than his friends outside of CWP.
"A lot of my friends couldn't even fathom why I would do this, risk so much, put so much on the line. The experience I built during my career sped up the process of me being able to fully run my own company at 23," he said.
Rob said this was all possible by learning everything he could during his intern year. He "learned everything so well that I could teach them. I proved to my mentors that I could be an asset by having great character, working really hard, and performing at the level that they needed me to."
Really get to know your co-workers and superiors on a personal level
Besides just doing your job well, there are other steps you can take during your internship to fully maximize your experience.
During Rob's intern year, outside of just doing his job well he built really solid relationships with the leadership team as well as his peers.  "I started to network and get to know them on a more personal level," he said.
Rob knew attempting to build relationships with executives of the company could be intimidating if not approached the right way. So he made sure he was ready before he broke the ice. "I made sure my reputation was solid prior to building that relationship, so they'd already heard good things about me. That way it was less intimidating to start a conversation with them."
And to actually start the conversation?  Rob just asked them for their time.
Aggressively pursue your own development
There's no doubt that a major benefit of the College Works Painting internship is skill building. But there's plenty more to gain from your experience here. In addition to leadership, management, and communication skills, you'll complete this internship with a plethora of soft skills as well.
"It's a skill to perform at a high level," Rob said.  "Work really hard, study up, and put your best foot forward."
It's also not a bad idea to search for resources outside of your basic job functions. Consider relationship building.  Rob suggests to "take every opportunity to build a relationship. Always say yes to lunch." Do everything you can to further your growth. "Don't wait for your own development to happen to you. Instead, aggressively pursue your own development," Rob said.
Get comfortable with learning while on the job
There's a lot to be said about leveraging your internship experience to propel your career. The most important action you can take during your internship is to allow yourself to thrive outside of your comfort zone.
"The internship pushed me out of my comfort zone," Rob said. Instead of shying away from this, Rob embraced being uncomfortable.
"What forced me to learn a ton was the fact that I was growing up as a business person, having personal integrity around that, and learning to deal with responsibility, which my intern year that was the most responsibility I had during a job," Rob said.
The hardest part for Rob during his intern year was probably "getting comfortable that I wasn't going to know all the answers all the time – getting comfortable with learning while on the job."
Accept responsibility and know what to do with it
Not everyone who participates in the College Works Painting internship wants to be an entrepreneur.  Yet, there's still a ton to gain from this internship even if you don't plan on running your own company after college.
Rob said that you'll automatically gain fundamental business skills when you have responsibility. "[It's about] accepting responsibility and knowing what to do with it. You won't get these skills at a regular internship or part time job," Rob said.
He continued "It's different to learn how to present yourself to earn the trust of a client with a thousand dollar project while you're in college. There's a lot of value in learning how to be a manager and having this responsibility."
Stay connected to hitting your goals
More than anything the most challenging part of the College Works Painting internship is that it's a performance based internship and requires self-accountability.  You'll need to set goals, and you'll need to stick to them.
Rob said,
"It's usually effort. Effort is the one thing a person has 100% control over.  It's a skill based internship, but effort makes the difference."Rob's effort got his business to about $64,000 and profiting roughly $10,000.
Make sure your performance is on par with getting a promotion
According to the National Association of Colleges and Employers, in 2015 the intern conversion rate was 51.7 percent.  This means that 51.7 percent of interns were converted into full-time employees by the employer they interned for.  NACE also reports that college graduates who completed a beneficial internship (gaining real-world business skills) have an improved chance of getting any full-time job offer. 65.4 percent of the class of 2014 received a job offer prior to graduation, to be precise. And the numbers haven't changed much since.
So, what do you need to do during your internship to ensure you get hired as a full-time employee?  Rob was competitive.
"I made sure my performance was on par with getting a promotion. I focused on bringing the results. I focused on the numbers and running a strong business. I also focused on building relationships with my direct mentor and his mentor that made all [the hiring] choices," Rob said.  He said he also focused on work ethic and character.
More on Rob:
Rob didn't necessarily know he wanted to run his own company his intern year, but he discovered it. At first, he wanted to go the law route.
Rob started his first business outside of CWP during his DM year.
From 18 to 19 years old Rob went from being financially dependent upon his parents to entirely financially independent, paying for school, rent, food, etc. all on his own.