Summer is coming to an end, which means it's back to school time. Starting off the school year strong is important for both you and your children to have a successful year.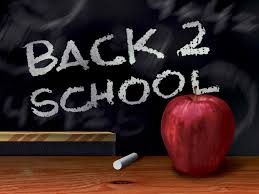 With just a couple more weeks of summer left here are some things to do to prepare for school.
No. 1: Get into a routine
During the summer everyone gets out of their normal routine. With just a couple weeks left it's time to starting getting back into it. If you've never had a solid routine, now is a great time to start.
Establish chores, bed times, curfews, etc. They do not have to be as rigid as they may be during the school year but this is a great way to ease in to rules and routines.
No. 2: Get organized
Create a centrally located family calendar for the upcoming year. Sit down together and add important dates that will effect everyone. Color coding is great if you have multiple children or tend to have a very full schedule.
No. 3: Clean
The whole family has enjoyed a relaxing summer and most likely the house has gotten a little messing in the mean time. Nothing wrong with that! But before school starts have a family cleaning day. Cleaning as a family before school starts will help you go into the school year on the right foot. And having the kids help is a great way to bring the family together.
No. 4: Plan your grocery shopping
Snacks, popsicles, and easy to make meals are popular in the summer but when school starts popsicles for lunch won't work. Start making a school year grocery list. Have the kids help you decide what they are going to want in their lunches and other meals as well. This will eliminate stress when you go to pack their lunches on the first day. They also can't complain about what you make because they are able to pick out some of what they will be eating.
Melanie Lovejoy
College Works Painting
mlovejoy@nsgmail.com