If you're reading this it must mean that you are interested in the picture contest we are conducting on our Instagram page. And, if that's the case, we are thrilled to have you on board!
With back-to-school hitting the stage for so many students across the nation, we figured, why not attach some fun to this trending topic?
For your reference we've compiled this handy dandy guide to keep you in the loop of all the logistics of the competition.
Happy school days!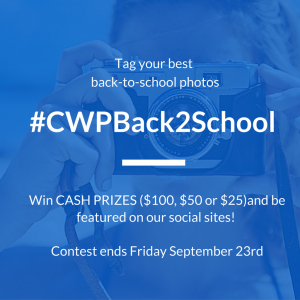 Announcing a new picture contest exclusively for Instagram followers! For two weeks we will be running a picture contest allowing Instagram users to submit their best back-to-school pictures. 3 LUCKY WINNERS will receive cash prizes (1st place- $100, second place- $50 and third place – $25). All 3 winners will also receive a repost on our social sites with a shout-out to them and their school.
All you have to do is FOLLOW US (@collegeworkspainting), post your favorite back-to-school picture hash tagging #CWPback2school and tag at least 3 of your buddies in the post.
This contest is open to ALL Instagram users. ALL 3 winners will be picked at random and will be notified on Friday September 23rd via a repost on our Instagram and Facebook pages as well as a direct message with next steps for redeeming their prize.
Contest period lasts from Monday September 12th at 10:00AM PST to Friday September 23rd at 10:00AM PST. All photos submitted will be liked and commented on, but only the 3 most creative will win!
Give us a FOLLOW TODAY, and join in some back-to-school fun!