I swear each year the holiday decorations start earlier and earlier, but Thanksgiving is officially over and it is safe to start decorating for the holidays. I know you are in panic mode attempting to finish your last projects of the semester and study for that calculus test you've been trying to forget about. Everyone needs a study break so here are a few ideas to decorate your dorm or house on a budget. Trust me a little holiday cheer will make your finals a little less painful!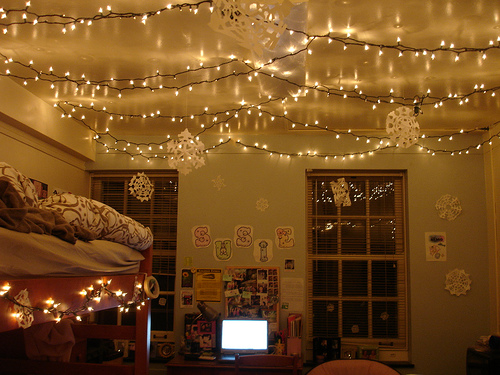 Artificial tree
Last year my roommates and I bought a three foot pre-decorated artificial Christmas tree from a fundraiser put on by her sorority. Let me tell you that little tree made our finals week a million times better. Last night we set up our little tree for the second year in a row and sat in the living room soaking in the Christmas spirit.
Real trees are messy and not allowed in some dorms. Artificial trees come in all different shapes, sizes, and colors. Some are pre-decorated so all you need to do is pull it out of the box and plug it in. You can find them at lots of places but I recommend trying Walmart or Target if you aren't sure where to look.
Ornaments
You can decorate your tree with ornaments or just hang them around your room for some extra cheer. You can make your own ornaments if you're feeling crafty or buy cheap ones.
Holiday lights
Holiday lights are all sorts of fun. You can string them around your room or shape them into a light tree on the wall. They also come in array of fun shapes and colors or you can stick to the traditional white lights. Just be sure to check dorm policies and use a surge protector.
Stockings
Stockings are another fun decoration. You can buy inexpensive ones and customize them using fabric paint. Have one for you and each of your roommates and use them to exchange small gifts.
Paper snowflakes
If you didn't spend time making paper snowflakes in elementary school then it's safe to say you missed out on one of my favorite childhood activities. Fold up a piece of paper two or three times and cut little shapes out of the it, unfold the paper and Wala! You have a snowflake. To conserve paper use old homework assignments and papers you do not need anymore!
Mistletoe
Last but not least, nothing says happy holidays like mistletoe. Just be careful when choosing the placement of it! If you hang it above the door you will have to kiss all of your guests!
No matter how you decide to decorate for the holidays make sure you follow any safety regulations for the building you are in and remember to be sensitive to religious beliefs other students may have.
If you have any more ideas for good college holiday decorations let us know in the comments below! We love hearing different ideas.
Melanie Lovejoy
College Works Painting
mlovejoy@nsgmail.com