For kids, halloween is a highly anticipated holiday. Here are some simple tips to make your halloween safe and successful.
1) Be sure to clear a path to your home. Your entry way should be free of anything hazardous that children (or adults) could potentially trip over. Be sure that the path is lit as well.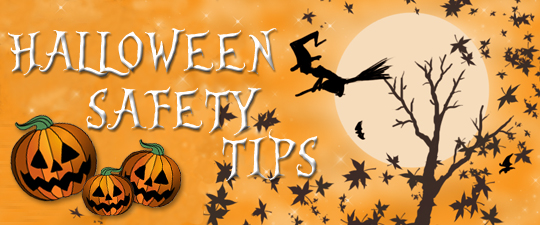 2) Opt to use lights in your jack-o-lanterns instead of candles. This will eliminate any chance of the candles catching anything on fire. My neighbors house was burnt down from a candle in a pumpkin that was knocked over. Needless to say it ruined more than their halloween.
3) If you choose to make homemade treats to hand out to trick-or-treaters be sure to wrap them well and label them. If you include your address on the label it will eliminate any potential concerns that parents may have about where the homemade treats came from.
4) On the other hand, as a parent, be sure to examine all of the treats your little ones bring home. Make sure all wrappers are sealed and any fruits or veggies are unblemished.
5) Be prepared. If you are new to an area do a little research prior to halloween to find out how much candy you will need to buy. Also be sure to choose a candy that has few allergens (avoid candies with peanuts) and avoid candy that could be a choking hazard to children.
These few tips will help make your halloween a successful and stress free one. For additional tips call your local police department. They may be able to give you area specific information as well.
Any additional tips? Leave them in the comments below for others to read!
Melanie Lovejoy
College Works Painting
mlovejoy@nsgmail.com