If you are looking to invest money into your home it's important to consider the value it will add. Because many home improvement projects don't add value to your home, being careful to choose projects that will add value is key.
So now the question is, which home improvement projects should you invest in and which ones could potential detract from your home's value?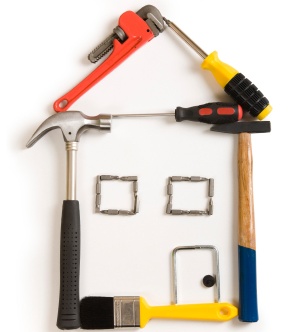 1) The Kitchen
Many consider the kitchen to be the most important part of the home. This means remodeling the kitchen will greatly pay off in the long run. It is important to be mindful that you don't go overboard though. You never want to make the kitchen look as if it doesn't fit with the rest of the house. According to Frontdoor.com, a minor kitchen remodel can increase your home value by 72.8%
Paint: A little paint goes a long way. Paint is relatively cheap and a fresh paint job makes a world of a difference. Even just repainting the cabinets can freshen up the room.
Energy-efficiant appliances: Replacing old appliances with energy-efficiant models will save you money on bills and be an attractive addition for potential buyers. Buyers are often looking for ways to save money in the long run when buying a new home.
2) Doors and Windows
The front door is usually the first thing about a house that people see. Replacing a door is estimated to raise the value by around 100%. Choose a door based on its aesthetics rather than energy efficiency claims. More heat leaks out through the cracks around the door frame than the actual door.
Window replacements offer a payback of around 70%. When deciding what type of windows to replace yours with research your area and neighborhood. You will want to choose one that is popular in your area both aesthetically and for the climate. Switching from single-pane to multi-pane saves up to around $500 a year in heating and cooling costs.
3) Basic Updates
Basic updates maintain and add value. Keeping your paint, roofing, and wiring up to date will maintain and potentially increase the value of your home. Homeowners want a safe home with limited needs for additional maintenance.
Home improvement projects to avoid:
1) Adding a pool
Although having a pool is fun and may seem like a good investment, it's not. The average price to install a pool is $30,000-$75,000 and many people don't want to have a pool. Families with small children will usually avoid buying a home where a pool is present. Pools also raise the energy costs and increase the price of homeowners insurance. Pools cost a lot to run and maintain and are not a good choice when looking to improve a home.
2) Gourmet kitchens
Making improvements to your kitchen increase the value, but if you go over the top you will loose money. If you plan on selling your home the increased cost of your home due to expensive appliances will most likely drive away buyers rather than attract them.
3) Expensive landscaping
This is another home improvement project, like gourmet kitchen appliances, that isn't worth its cost. If you are selling your home it will be important to have good landscaping, but keep it simple and economical. If the new owners want to invest their money they will.
Melanie Lovejoy
College Works Painting
mlovejoy@nsgmail.com