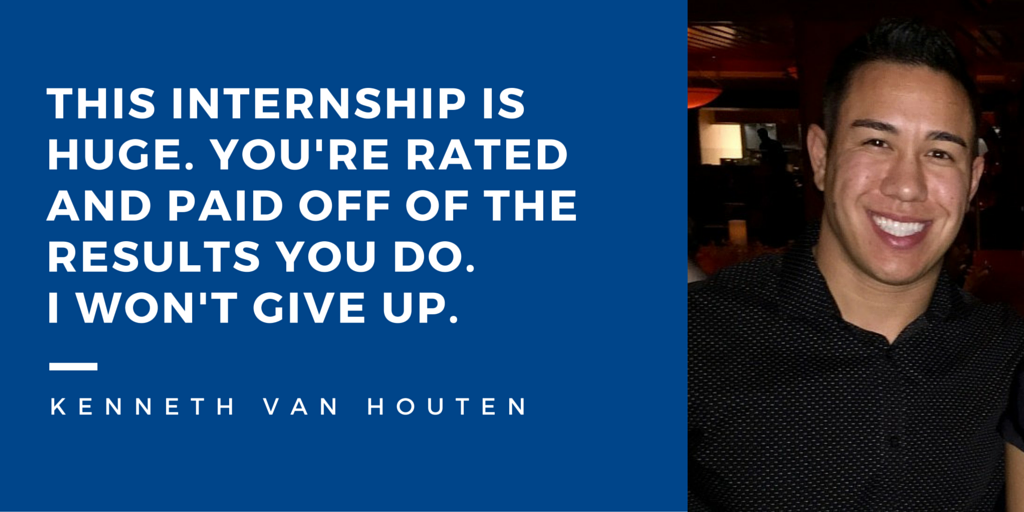 Have you ever stumbled into a situation that you initially had no idea would lead to success, but it ended up being one of your biggest accomplishments?
For College Works Painting Northern California intern, Kenneth Van Houten, this type of experience happened out of the blue, a few months ago, in what he thought was just a routine business encounter.
In going through estimates of summers past, Kenneth found a client that had been interested in having her house painted back in 2013. He gave her a call and set up an appointment to meet with her for an estimate.
Little did he know he was embarking on booking a house painting job for who he soon discovered (through word of mouth prior to meeting her face-to-face) was the Mayor of Napa!
He was "super stoked," he said. Understandably so. It's not every day you get to work with a high profile client.
Despite the many nerves Kenneth must have had going into the estimate process with the Mayor, he ultimately booked the job by sticking to the formula that has been working for him all spring.
The College Works Painting program isn't just an internship to Kenneth. It's his own start-up business. Which is probably why he's maintained within the top 15 most successful interns companywide since the beginning of the season.
To reach your goals this summer in production season (and in business in general) you'll want to shift your attention to these three things Kenneth holds true:
Communication with Your Clients is the Key
"You'll get a lot more out of your business by being relaxed and creating personal communication with your clients," Kenneth said. "Let your clients make their own decision, remind them of your quality of work."
He explained how during his meeting with the Mayor of Napa, from the very beginning, she never went easy on him simply because he was a college student. He had to prove to her that he was the most qualified for the job. He approached the estimate as himself, very laid back so she felt comfortable.
"I wasn't too pushy and I let her make her own decision," he said. Though, during the walk-around he did remind her of our quality and helped her understand the sense of urgency involved when painting is needed.
In the end, the Mayor liked Kenneth's presentation and booked the job with him
Kenneth credits this to communicating well and staying relaxed, as he does with all his clients.
"A lot of it has to do with being more relaxed and getting to know your clients," he said. "Talk to them and be likeable. If they like you, urgency will not be bad."
Kenneth says he goes into each estimate like he's at zero. He's hungry for each and every job. That's his secret to success.
Busy Doesn't Mean Impossible
With booking the Mayor of Napa, Kenneth knew he didn't want her busy schedule stopping him from delivering high quality work.  He set up a plan of action that would be ideal in keeping her in the loop from start to finish even if she wasn't able to physically be home while work was being done.
"I offered to Facetime periodically in order to keep her involved around her busy schedule," he said. "I want her to know the job is getting done and I want her to see the process from start to finish so she doesn't feel like she's missing a thing."
When it comes to working with clients with extremely busy schedules, Facetime or not, Kenneth emphasized lots of communication. "Over communicate so your client knows what's going on."
Kenneth knows that he's not only up against his client's busy schedules, but his own as well. He intends on running a large painting business this summer through College Works Painting, which makes him an incredibly busy person.
To reach his personal business goals, Kenneth knows he needs to sell more work while producing the work he's previously sold. Translation: he's busy. Very busy. But his goals aren't impossible.
The challenge for Kenneth so far has been getting his mentality to shift from managing production (paint jobs) to selling paint jobs. He accomplishes this by turning one on and the other off. Kenneth says he's able to transition back and forth between sales and production by using "focused energy. [Focusing] on one thing at a time."
You're busy. You're clients are busy. But success is possible.
Stay Focused On Your Goals
Kenneth plans on reaching his business goals this summer by repeating what's already worked for him so far. He's currently running a $100k+ business right now, and he plans on doubling that by the end of the College Works program. He figures he'll reach $200k by repeating what got him to a $100k business. On the weekends he does pure sales and Monday through Friday he focuses solely on production.
Though, the size of his company isn't his only goal. The type of business Kenneth runs is hugely important to him. To run a business he can be proud of, Kenneth has three major goals.
He emphasized how they all have to work together to succeed as a whole.
100% customer satisfaction
His entire crew to remain with him for the whole summer – no turnover
Quality work
Kenneth explained that the quality of the work needs to meet the expectations he's set with his clients in order for them to be satisfied. This requires making sure his crew constantly produces high quality work, he said. "Ensuring quality is huge! If the quality drops, it effects momentum." Which is why maintaining his original crew the entire summer would be a huge benefit. He plans on keeping his crew by motivating them to be detail oriented and simply being the best manager he can. And of course, nothing, he said, is as good as a quality finish.
Kenneth plans on running a successful business by having goals and reaching them. He said it's "not just numbers. It takes personal individual progress [to succeed]. If you put in all the work, that goal will happen as long as you're always working toward it. Try as hard as you can."
"This internship is huge," he said. "You're rated and paid off of the results you do. I won't give up."
Are you digging Kenneth's story and inspiration? Do you have a story that you want spotlighted in one of our next blogs?
Email me here and we can chat about your accomplishments!