DIY and home improvement projects sound like a great idea until the bills start to add up. I have compiled some tips to help you save money when shopping at the big box home improvement stores.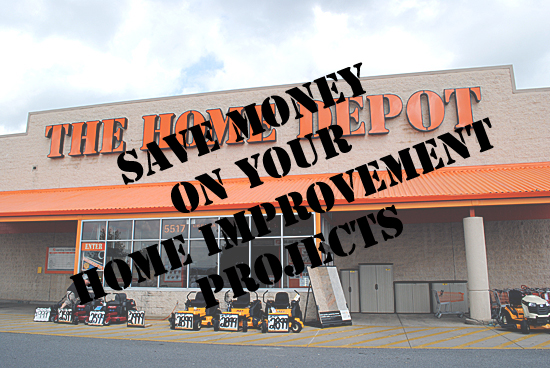 1) Make Detailed Shopping Lists
Knowing exactly what you need beforehand is the number one trick to saving money when shopping. Measure sizes and lengths for screws and nails, check through your tools, paint, and other things to make sure you are not buying anything you already own. Know the exact dimensions of the lumber you will need.
2) Comparison shop
I like to comparison shop ONLINE before I go to the actual store. By shopping online I can get an idea of prices at multiple stores without having to waste my time or gas driving from place to place. I then call ahead to the store with the lowest price and ask them to set the item aside for me up front.
By having the items set aside for me I don't spend any time looking for it in the store, and I don't get temped to buy things I don't need.
3) Buy In Bulk
If you haven't noticed it before, Home Depot and Lowe's both offer "contractor packs." These items are labeled on the shelf and can save you a ton of money.
Contractor packs are basically the home improvement store version of Costco! When you are preparing your shopping list think of things you end up needing often– tape, tarps, screws? Make a note by them on your list and if the store offers these in contractor packs then it is probably worth getting.
Be careful though, if you don't foresee yourself needing 5 pounds of one specific size screw then maybe sticking to a smaller quantity is a better idea.
4) Take It Back
I don't mean buy an item, use it, and then try to return it… But the number of items I have bought, been unhappy with, and/or never used, is pathetic. The employees will be more than happy to work with you and if there is something about the tool that you don't like they will often help you find a better tool (and even a better price).
5) You Can Walk Away
Don't be afraid to walk away. If a manager doesn't seem helpful and is not willing to help you find a deal, then there is no reason for you to shop there. Take your business somewhere else. This is especially important when you are doing a large project. Managers can swing you deals, just be persistent and as long as you have done your research ahead of time you will know if they are helping you out or not.
Good luck with your project! Let us know if you have any other tips for saving money on your home improvement projects.
Melanie Lovejoy
College Works Painting
mlovejoy@nsgmail.com