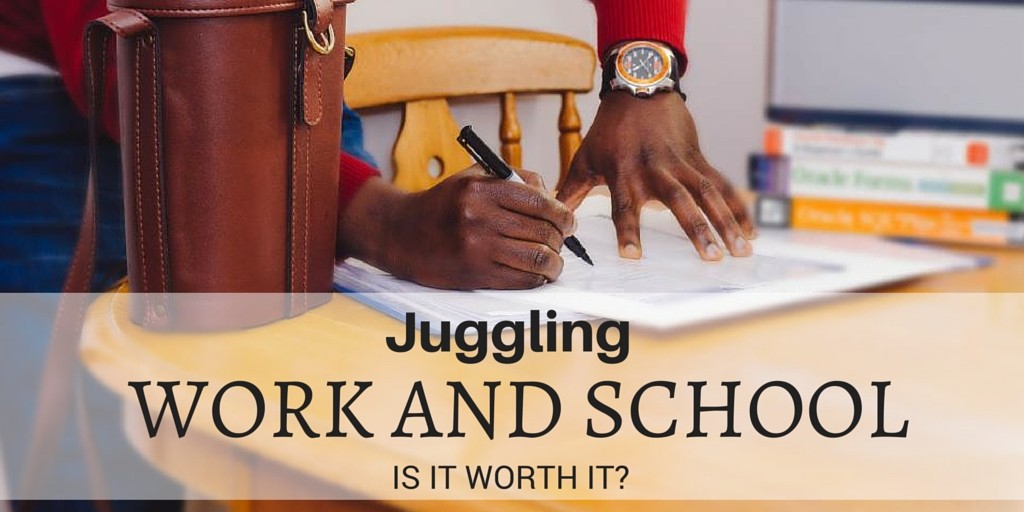 Nearly 4 out of 5 students work while attending school.
The average student works 19 hours per week during the school year.
That might not seem like much, but let's put it into perspective.
A fulltime student will spend 48 hours per week in class and studying combined.
(A full-time student spends 12 hours a week in the classroom and 36 hours per week studying outside of class). 
Adding 19 additional hours to a 48 hour week seems like a lot now, doesn't it?
Which begs the question: is having a job while in college worth it?
The answer is yes.  63% of college students who graduated with valuable work experience landed a job after college.  And students with relevant work experience outpaced their peers with an average $51,930 salary.
Juggling school and work is definitely worth it.  Despite how difficult the struggle may be, many college students juggle work and school.
Don't let the juggle between the two overtake your life or jeopardize your academic success.
Learn how to balance work & school in just 5 easy steps.
1. Find an internship in line with your studies
While this type of scenario may seem unrealistic prior to graduation, we have some news for you – It's possible! You'd be surprised how many companies are eager to bring on college students. Although you're still learning, your contribution and fresh knowledge may be just what they are looking for.
Setting aside some extra time to seek out a position that will help mold skills in the field you are studying will not only be beneficial in building your resume, it can help elevate some stress and propel some positive motivational endorphins through your body.
 2. Say "Yes" to time management
 A full- time schedule in two areas requiring success can bring a lot of tension to a motivated, high achiever. Organizing a strategic, reasonable plan of execution is crucial. Piling on too much can sometimes lead to disappointment, but managing a strategy of multitasking mixed with dedication can turn an "I can't do it," into a, "Yes I can."
Related video: College Works interns talk about time management.
3. Choose healthy alternatives for natural energy
The turmoil of juggling work and school can land some students into a routine of poor nutritional habits. Our bodies need proper nutrition and exercise to function correctly. Why not try incorporating more fruits, veggies and H2O into the long days studying in the library and endless hours working away? We promise – instant natural energy!
4. Give yourself a well-deserved break
Even though the buzz in your head may be telling you to not stop, sometimes taking a solid break is necessary. Allow yourself time to walk away from a task and regroup. While completing an assignment or a task at work is crucial, all things require a proper mindset.  Our advice to you – take breaks when needed!
 5. Manage a positive support system
The stress you may feel is a real deal, but people that care will be there. In taking a step back, take a look around at all the people in your life who support the efforts you are making. Try reaching out to fellow classmates, coworkers, family, and friends. Talk about what you are achieving and struggling with. Support and self-confidence are invaluable in the path to success. Stay positive!
Remain motivated in your journey to success!  Remember, 4 out of 5 college students work while in school.  You're not alone.  

How did you do last semester balancing work and school?  Did you notice a dip in your GPA, or were you successful juggling work and school?  Why do you think it's important to work while in school?