Fall is here! Before it gets any cooler, take advantage of the moderate weather to make repairs to any damaged areas of your home.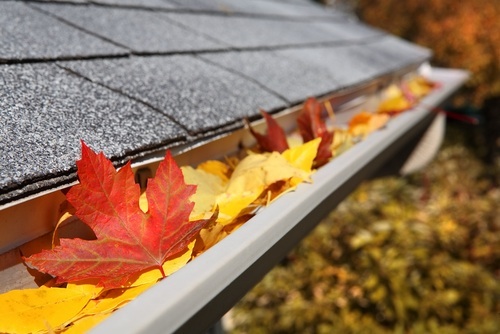 Exterior maintenance
Paint, Siding, & Sealants
Check foundation for cracks and caulk around the areas where masonry meets siding, where pipes or wires enter the house, and around the windows and door frames to prevent heat from escaping.
Caulking and sealing openings is one of the cheapest fixes you can make on your home, but left alone this can cause the siding of your house to deteriorate.
Roof
Check the roof for lose or missing shingles. Your roof is the first thing protecting your home. Snow, ice, and rain can deteriorate insulation, wood and drywall, exposing electrical, plumbing and HVAC systems. It's better to deal with repairs in the fall than to discover a leaky roof during a storm.
Gutters
After the leaves have fallen, clean out your gutters and drain spouts. Flush them with water and inspect the areas where they connect. If it is in your budget, replace them with gutters that have built-in leaf guards.
Pool
If you have a pool it is important to take care of it as the weather cools. Balance your water chemistry, store your equipment, cover your pool, and make sure your plumbing is ready for the cooler temps.
Deck & Porch
Check the supports, stairs, and railings on porches and decks. Make sure the handrails can support someone if the slip on rain, snow, or ice.
Clean and store deck furniture. If you have plants out, make sure all soil is emptied from pots and planters. Dirt left in clay pots will freeze and cause the pots to crack.