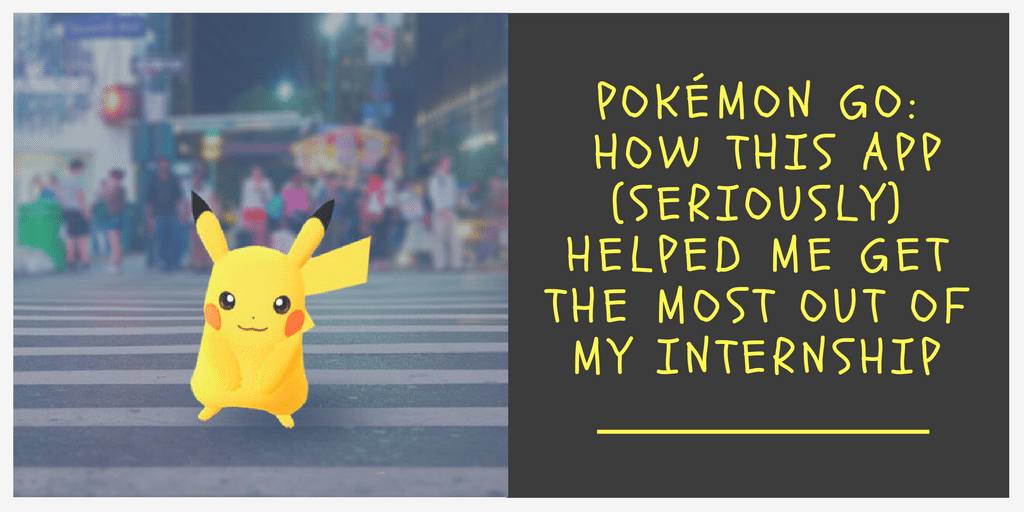 2016 has been one exciting year for smart phone users. From Snapchat connoisseurs, to Pokémon GO enthusiasts, to even Instagram story newbies, let's be real – our society has been all about it!
Over the last month, I have fallen into the trap of the Pokémon GO craze. Admittedly, I downloaded the gaming app for the FOMO and I experienced all emotional levels that came with playing the game.
After a week of being glued to my phone trying to catch 'em all, this distracting agent was deleted. I decided to go on living my life like a normal millennial without feeling obligated to chase Pokémon monsters at every corner of my hometown.
However, upon deleting, I have continued to be inundated with this hype ringing in my ears everywhere I go.
Is this darn thing chasing me now?
What I didn't realize in the moments of playing this game was that a lot of the strategies in the game that are required to win, are strategies that have also helped me make the most out of my internship.
I've come to realize that the "catching 'em all" craze is a real deal. It's gotten me to assess some positive takeaways that this virtual game actually has to offer.
4 things Pokémon GO has taught me about getting the most out of my internship:
Competition and winning go hand-in-hand
Since it's essential for Pokémon GO users to catch 'em all, in order to be crowned the winner, it's imperative that competitiveness is attached.
We've all seen it "the herds," if you will, of people crowding in Pokémon GO stops and gym areas. We've heard the true tales of Pokémon hunts gone bad, and we've even seen people lethargic due to too many hours of "hunting." The race to the top is definitely real, and in my week long adventure in it I quickly learned that being passive to drive results simply would not cut it.
Take away: 
Every day, I come into my internship as if it were my first day all over again. I strive to put forth my best work and I don't leave until I know I have completed my tasks at a level I am proud of.
Playing Pokémon GO reminded me of the type of dedication I have for my internship. It reminded me that in order to win in landing a future career you must first succeed at every level.
Related article: 5 With-it Tips to Finding the Best Internship
 Team work will forever make any dream work
Well I wouldn't say Pokémon GO is necessarily a team sport, I would say having a team of passionate driven "hunters" in your circle is crucial. Being able to collaborate with your buddies on where all the hot spots are for catching Pokémon's is key. Not to mention, it's a strategical tactic to use to find ones you weren't even aware of.
The bottom line is that Pokémon GO has essentially taken the "isolation" out of smart phone users, and has brought a socially accepted, new way of interacting back to life.
Take away:
After my experience working collaboratively with my friends playing Pokémon GO, I was reminded the importance of team work in the workforce and in my internship.
Having the ability to communicate effectively and drive results within a group has some serious value. Pokémon GO has reminded me to speak up and put my best foot forward during the duration of my internship.
Moving forward will get you to the next step
The only way to win at Pokémon GO is to literally get moving. By requiring its players to constantly be moving from one hot spot to the next calls for each player to be ever growing. While this is physically appealing, it is also mentally appealing. It forces it's users to be alert and ready to tackle the next step in their path. Pretty genius, right?
Take away: 
By being forced to get up and move around in order to succeed at Pokémon GO, I've been reminded how important it is to stir away from complacent within an internship. I have learned that it is vital to continue to propel forward and show your worth in order to see light towards a promotion.
Related article: 3 Tips to turn Your Student Job into Your Ideal Career
 Innovation lies in the eye of the gamer
Like any game, Pokémon GO has hidden hurdles that the gamer must accomplish in order to move on to the next level. In business, it takes innovative strategy to formulate top results and push one step closer to the finish line. Finding ways to break these doors down is where the gamer (or employee) are in control of their density.
Take away:
In just my short lived experience playing Pokémon GO I was reminded the prominence of being able to dig deep and bring innovative ideas to the table. By having to be strategical in planning and organizing the details of my Pokémon GO "hunts" I was quickly reminded the importance of always being alert and ready to share ideas in my internship.
Ultimately, this game reminded me that I will not be an intern forever. It reminded me that all things work together for good and if I continue to develop strategies like I did when playing Pokémon GO, I will sooner than later evolve into my future career.