Social Media – A Job Seeker's Secret Weapon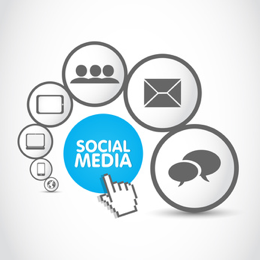 Some rights reserved by SalFalko
Connections are being made every second as we are living in a more 'social' society. In more ways than one, staying linked to other people is as easy as a single tap on a tablet or a digital thumb up. Through social media, this necessary part of job searching is optimized. Rarely do we find applicants without the complete online dossier of Facebook, Twitter, and LinkedIn. These portals present employers a wider view of an applicant beyond his or her resume.
However, social media is a double-edged sword. Careful planning and management of online profiles are the keys to garnering job search success. Somfo Izue, creator of the curriculum vitae database website CV Flash, said that social media can contribute to the success or failure of an applicant. "It all depends on what the person does with those mediums," he added.
To make the most out of these online tools, here are effective ways to utilize social media for job searching.
Be updated all the time, every time
Most job searching sites have mobile versions which are easier to navigate than on a wide screen. More importantly, many of these apps have social media functionality. LinkedIn, a powerful professional online network, is connected to many job searching databases, making it a must-downloaded app for interns, fresh graduates, and career shifter. Verizon's human resources manager Cleo Stockhoff revealed how they utilize this technology. "At Verizon, candidates can now reduce time applying online by using their LinkedIn profiles," Stockhoff explained. "They can also set up job alerts through the career site and receive email notifications of job openings that fit their search criteria."
According to a study by Glassdoor.com, 68% of job seekers use mobile phones to look for potential careers at least once a week. A majority of them also believed that job seeking using smartphones and tablets will be the norm in the next five years.
Clean up the Google dirt
Type in your name in Google and check all the items that come up. If something unsavory is listed on the first page, immediately delete it or ask Google to remove it on their search results. Because your online profile is essentially your resume, do everything it takes to keep it clean and free of malicious content. Remember that first impressions last when it comes to your digital identity.
This is part of online reputation management. Having a good, active, and professional-looking social media profile will better your chances of gaining new networks. Your messages on Facebook and Twitter should not have any content that can be deemed derogatory to your company or reflects bad work ethic. Always remember that your online profile isn't limited to your friends or acquaintances, your employers will also be able to see them. In fact, they actually actively search for them.
Demonstrate your skills subtly
The internet is a free space to demonstrate your skill set to potential employers. It is a wise idea to create an online portfolio of your works whether you are a graphic designer or others. Make sure you link these to all of your social media profiles. Tweet or link your website or featured work every so often to let employers know that you are actively pursuing your craft.
In line with this, your online activities may also show some areas that you need to work on. For example, job seekers should ensure that there are no typographical errors on their profiles and that content are formatted perfectly. Having a faultless profile demonstrates several skills which employers are in need of.
Hiring managers comb the massive social media sphere not only to dig up all the skeletons in the closet, but also find things that might give them an upper hand. Maintain an active online profile through frequent updates, participation in message boards and online communities. Active involvement and thorough online reputation management in social networks can be springboards to employment.
ABOUT THE AUTHOR:

Sookie Lioncourt has been interning as a human resources specialist. She is a freelance writer and contributor to a number of blogs and e-magazines in the past. You may contact her through Twitter.
Melanie Lovejoy
College Works Painting
mlovejoy@nsgmail.com