Friends and family often ask me how and why I started blogging. While the reasons for starting a blog are endless, the actual process is quite simple.
Follow me through the steps.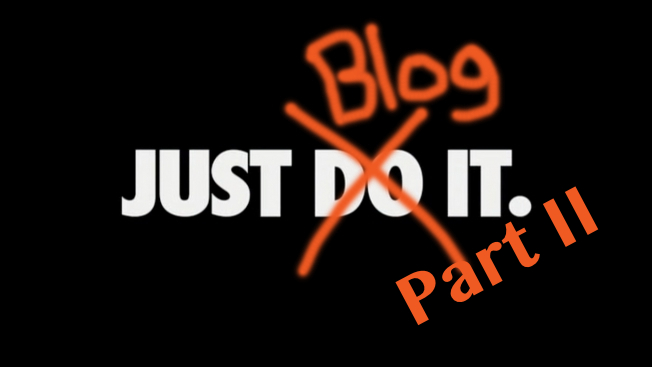 1) Decide what you want to blog about
There are thousands of bloggers on the web. If you want to attract readers you are going to need to establish credibility. This means you need to pick a topic that you are passionate about. Pick something that you have experience or knowledge in.
 2) Get a domain
By spending a whole $10, or so a year, on a unique, short, and relevant domain name you will increase the traffic to your blog. Don't try to sound clever or cool, instead stick to words that people will be searching.
A good domain is
Short
Easy to remember
Easy to spell
Descriptive/brand-able
Do not contain hyphens or numbers
**There are plenty of free blog platforms too. Don't feel like you need to pay for one!
3) Tag lines
Under the general settings on your blog you will find an option to change your page's tagline. Do This. Most themes feature the tagline prominently in the header. It is also used in the meta-title of your homepage and this therefore seen by everyone who finds your site through Google. Make sure you choose a description that is straightforward and relates to your topic.
4) Set up Google Analytics 
Google Analytics is a free program that reports traffic flows to your site. If you have clear and accurate feedback on your blog you will be motivate as you watch your traffic increase. You also get immediate feedback on your posts. You will know what keywords bring the most traffic and can adjust your posts around this.
5) Network
Networking is important for many reasons. Follow other blogs and interact with their bloggers. They may inspire you to post something! By interacting with other bloggers you will also get more traffic to your site. Announce and share your articles on your social networks like Facebook and Twitter. Don't be the annoying poster that feels the need to post everything they write. Pick a couple of your best post to promote.
Got all that info? Great!! Your blog should start seeing results soon.
Anything I missed? Post your questions and comments below!
Melanie Lovejoy
College Works Painting
mlovejoy@nsgmail.com