Traveling to a tropical island or a high-end ski resort may sound amazing right now, but sometimes these types of vacations don't fit in our budget. This doesn't mean you can't still get the relaxation you need. Try a STAY-CATION!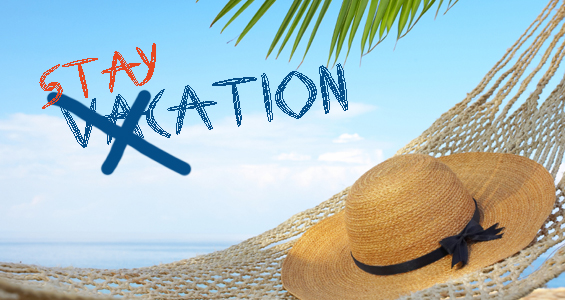 Here are a few tips to help you get the most of your vacation, without having to leaving the house.
Put the world on hold
One of the nice things about going on vacation is that you feel like you can turn off your cell phone and leave your computer at home. If you are taking a stay-cation you have the right to do that too!
Turn off your phone and limit the number of times you check your voicemails and texts to once or twice a day.
Set an 'out of office' response on your email so that people don't wonder why you are not responding and continue to send you emails.
Turn off the news. How can you relax when you have the news of the world blaring around you. The world will keep turning (I promise).
Don't do dirty work
If your are going to have a successful stay-cation you need to spend it relaxing, not cleaning. Have your house cleaned thoroughly before the beginning of your stay-cation so that it isn't on your mind.
Like going on vacation because you don't have to cook? Have dinner delivered every night, grab take out, or even enjoy a couple dinners at your favorite restaurants. You are saving a ton of money by not traveling so you can splurge a little on your meals.
Indulge in your favorites
Create a comfy setting and grab your favorite books. Spend a few days buried in a good novel and finish it feeling relaxed and refreshed.
If you like the outdoors take a camping trip in your backyard. Borrow a tent and back up a cooler and spend the day and night in your yard! (Kids love this type of stay-cation!)
If you are more into movies then have an at home film-festival. Buy your favorite snacks and candy and pick a movie theme. Spend a couple days watching all your favorite rom-coms, thrillers, or tear-jerkers.
Bring the spa to you
Turn your bathroom into an aromatherapy spa. Stop at a health-food store to pick out a few essential oils. Light candles and draw a warm bath, sink in, and relax.
Hire a massage therapist who makes house calls, or buy a group on and head to a local (and affordable) massage therapist.
Combine a few of these ideas and you can stay-cation like a champ!
Any more ideas for great stay-cations?
Melanie Lovejoy
College Works Painting
mlovejoy@nsgmail.com