Last week I attended a workshop hosted by my school called Target For Success with the Dale Carnegie training group. This is a three part workshop helping students to create a personal branding statement and learn professional techniques to be successful. While we talked about many important aspects of being successful in the business world the thing I took away the most was the information he gave us regarding business cards.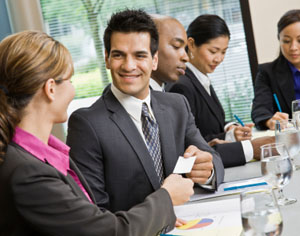 Before this session I had always half laughed when fellow students showed me their business cards. We're not that professional yet I would always think to myself. That my friends is a lie. Everyone of us should have businesses cards and here is why.
Business cards are an extension of our person. Networking with people is how you connect to potential employers but carrying around and handing out your resume is very inconvenient.
"Once you're in the professional world, you sort of make the assumption that people have a card–if you want to play in that world, you have to have the tools," says Lindsey Pollak, career expert and author From College to Career: 90 Things to Do Before You Join the Real World.
What to include
Contact information should be the main focus of a college student/recent grads business card. It should have your name, phone number, and email address. If you are a common user of LinkedIn feel free to include your profile as well. I don't advise using your Facebook profile unless you use Facebook strictly for business.
Quality
Business cards are not expensive, intact you can find many places to get them for free. But be careful when choosing an inexpensive or free option. You want to be sure that the quality of the card is still good. If you card says "for free business cards, call us" on the back chances are you won't be looked at as too professional.
Places like VistaPrint, Minted.com or your local Fedex are good places to work with for getting business cards printed. Do your research and find a quality printer at a reasonable price.
Creativity
You want your card to stand out so be creative when you make it. A girl in one of my classes brought in her "business card." It was her info printed on a chocolate bar wrapper! I'm not saying that's what you should do, but think about your competition and your abilities. Aesthetically pleasing images and clean writing are imperative but if you can go one step further and find something to make yours unique then do it.
Having a logo or slogan can make your card more memorable. Be sure it's appropriate and appeals to all ages. Also be sure the font is big enough without being obnoxious.
Check out this list of 100 creative business cards!
Melanie Lovejoy
College Works Painting
mlovejoy@nsgmail.com