No one ever really knows how it happens, but one day you will notice your once shiny and welcoming porch is now covered in cobwebs and used as a storage place for odds and ends. Time for a much needed facelift? Yes!
Creating an inviting front porch is important because some people may never even enter your house. Don't let a bad first impression be their only impression.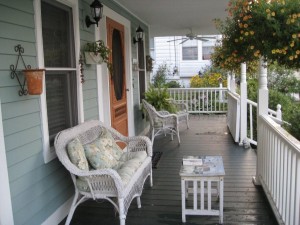 No. 1: Start simple
Just tidying up the stuff left on your porch can make a huge difference. Put away the abandoned toys and move the hardly ridden bikes to the garage or side of the house.
Power wash the porch and add a coat of fresh paint to the trim, railing, and floor to bring the old shine back.
Joe Ruggiero, a furniture and fabric designer and TV host/producer, suggests adding an accent color to the porch floor or rail with an exterior wood or concrete stain.
No. 2: Make it cozy
Once the basic cleaning and freshening up has been done add some comfy outdoor furniture.
An outdoor rug surrounded by some seats sets the scene for a cozy conversation spot. The rug can be bright and used as an accent but keep the furniture neutral colors. Changing the color of the cushions or accent pillows for each season is a great way to keep your porch fresh and inviting.
No. 3: The ultimate charm
Hanging a front porch swing is the ultimate charm to add to your home. Everyone on the block will be jealous.
Keep the furniture limited– a porch swing, a couple chairs, and a table for drinks is all you need!
If you need something to store toys or extra stuff in look into a wicker table with a pop up lid. Vintage metal boxes also look great if it goes with the theme of your home.
Melanie Lovejoy
College Works Painting
mlovejoy@nsgmail.com