Aside from being a slower selling season, selling a home during the winter brings about interesting challenges for homeowners. This is especially applicable if you live in an area where it gets cold, and snows or rains. However, do not be discouraged! Here are a few ideas to help brighten your home and increase the chances of your home selling.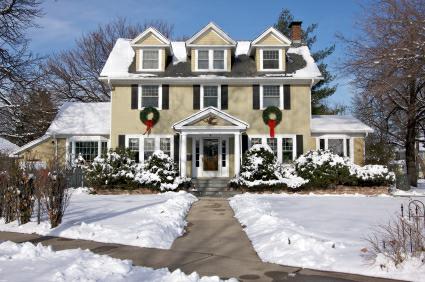 1) Clear a path
This should be a no-brainer, but making sure there is a clear path to your home is essential. A slip and fall on the way into a house puts a bad taste in a potential buyers mouth and could result in a claim on your homeowners insurance.
Keep the path shoveled and sprinkle a thick layer of sand and salt over the sidewalk and steps to ensure your buyers' stable footing.
If it's raining, put a rubber mat by the front door and a bin to hold wet umbrellas and shoes.
2) Keep the temperature enjoyable
Busy restaurants use cold temperatures to make customers eat quickly and keep tables from getting backed up, but the last thing you want is for your potential buyers to rush out of your house because they are cold.
Keep your home at a comfy, cozy temp when you are showing it. Give buyers a reason to linger. They will especially want to hang around if it is chilly outside! If you have a fire place, light a fire before your showings, but be sure that it is protected in case children are brought to the house, and remember to never leave it unattended.
3) Create a mood to reflect the season
Stage your home for an inviting winter scene. Leave big blankets folded over the arms of your couches in the living room. Stage your bathroom to be a home spa, with plush robes and slippers. If your house is being shown before January, plug in some Christmas lights and put out some decorations to match the season.
You want the buyers to pictures themselves celebrating the holidays in your home.
4) Cook something yummy
Nothing says "welcome home!" quite like the smell of fresh baked cookies, hot coco, or cider. Get these smells wafting through your home and offer treats to guests as they come to check out your house.
The ultimate goal is to convey the feelings of love, comfort and joy that your family has experienced in this home and make the potential buyers imagine their future holidays here!
Any other tips you recommend to winter home sellers?
Melanie Lovejoy
College Works Painting
mlovejoy@nsgmail.com