The past month of my life has been been an overwhelming blur of work, school, and sorority life. As the Membership Chairman for my sorority I have been in charge of planning our fall formal recruitment. Planning a sorority recruitment is much like planning a wedding. It takes months of planning, weeks of preparation, hours of executing, and suddenly it's over.
Although I have always known that my delegation skills lacked, it became very apparent while planning recruitment. There is only a limited amount that one can do on there own and only so many tasks one can complete. Learning to delegate is a key part of getting things done. I want to share the whos and hows of delegating to make it easier.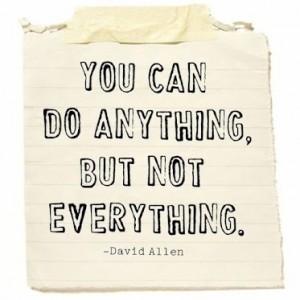 The Who and How Delegating
To Whom Should You Delegate– factors to consider
Consider the experience, knowledge and skills of the individual as they apply to the delegated task
Consider the individual's preferred work style
Consider the current workload of this person
How Should You Delegate– Use the following principles to delegate successfully
Clearly articulate the outcome desired

Begin with the end in mind and specify the desired results

Identify constraints and boundaries. Where the lines of authority are and who is responsible and accountable for what.
Understand that you can delegate responsibility but you cannot delegate accountability. You are ultimately responsible for the end result.
Provide adequate support. Be sure the person responsible has the supplies or access to the supplies they need and access to someone able to answer questions for them.
Focus on results rather than what should be done

Concern yourself with that has happened rather than what needs to happen. Facilitate success and trust

Establish and maintain control

Discuss timelines & deadlines
Agree on a schedule of checkpoints at which you'll review the project or task progress
Make adjustments as necessary
Take time to review all work completed
By delegating tasks you are able to accomplish more in a shorter amount of time. The work will also be better quality because you won't be spreading yourself too thin. Delegating is also a great skill to have. Being able to delegate looks great to future employers.
Melanie Lovejoy
College Works Painting
mlovejoy@nsgmail.com