It can be easy to get caught-up in a bathroom remodel and find yourself spending more money than needed to update the look. If you are hoping to spruce up your bathroom without shelling out more cash than needed, try a few of these cheap and easy upgrade ideas from College Works Painting.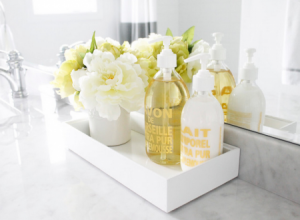 Lighten and brighten
No one wants to spend time in a bathroom with bad lighting. Improving the lighting in your bathroom can be as simple as getting the windows cleaned or shrubbery trimmed back to allow more natural light in. Also play with replacing thick curtains with thin ones that allow more light in while still maintaining privacy. Adding mirrors or art that reflect light will also help to brighten the room with very little added cost. If additional light is still needed at a couple fixtures to your bathroom. The best light for grooming comes from light above the mirror as well as on either side.
Play with paint
A guaranteed way to update your bathroom is with paint. You can paint the walls, the shelves, or just a vanity for very low cost. Because bathrooms are humid and moisture collects you will want to use a mildew or moisture resistant primer to seal the paint. Don't be afraid to use color in the bathroom! This will help brighten the bathroom as well.
Update the accessories
Bathroom hardware and accessories are much like jewelry. They are easy and relatively inexpensive too update, but can make a huge difference. Towel racks and towel rings are easy to install and can create cohesiveness in the bathroom. Another easy way to create a custom look is to replace faucets, door knobs and cabinet knobs. Replacing old, dingy towels with fresh ones is another amazing way to make your bathroom feel new again.
Any other suggestions on updating the bathroom for cheap? Let us know in the comments!
Melanie Lovejoy
College Works Painting
mlovejoy@nsgmail.com